(Seminar)
T. Shanaathanan, Cabinet of Resistance No. 2, 2016 (detail)
Demands for decolonizing the curriculum has gathered force and momentum across Europe and North America. But what does decolonizing systems of knowledge mean for our practice as art historians? By way of approaching the question, this seminar will explore the intersectionalities among the trajectories of artistic modernisms, the function of art history, and processes of decolonization. That the discourses of modernism crisscrossed imperial and colonial worlds is by now well-known. However, the aesthetics of modernism and the political processes of decolonization also shared a vital conceptual cognate. For the colonized artists' encounter with European modernist cultures in the early 20thcentury often shaped and sustained the desire for liberation from European imperialism. Consequently, in an antipodal uptake, it was metropolitan aesthetic forms and discourses that were reordered in the colonies to articulate demands for intellectual and political self-determination. Art history followed. How did the lexicon of art history change from the early to the mid-decades of the 20thcentury as the "European" modern was negotiated with the indigenous and the anti-colonial? And how did the decolonizing energies of this modern generate contrapuntal conceptualizations of contemporeniety, as former colonies gained independence in the Post-War years and imperialism assumed new forms under the shadow of the Cold War? Our deliberations will combine specific case studies drawn from South Asia and the Global South more broadly. We will end with recent curatorial interventions such as Rasheed Araeen's The Other Story (1989–90), Okwui Enwizor's All the World's Futures, Venice Biennale (2015), and Andrea Giunta's Verboamérica (2017) that offer models for rethinking the long history of art and decolonization from our embattled present.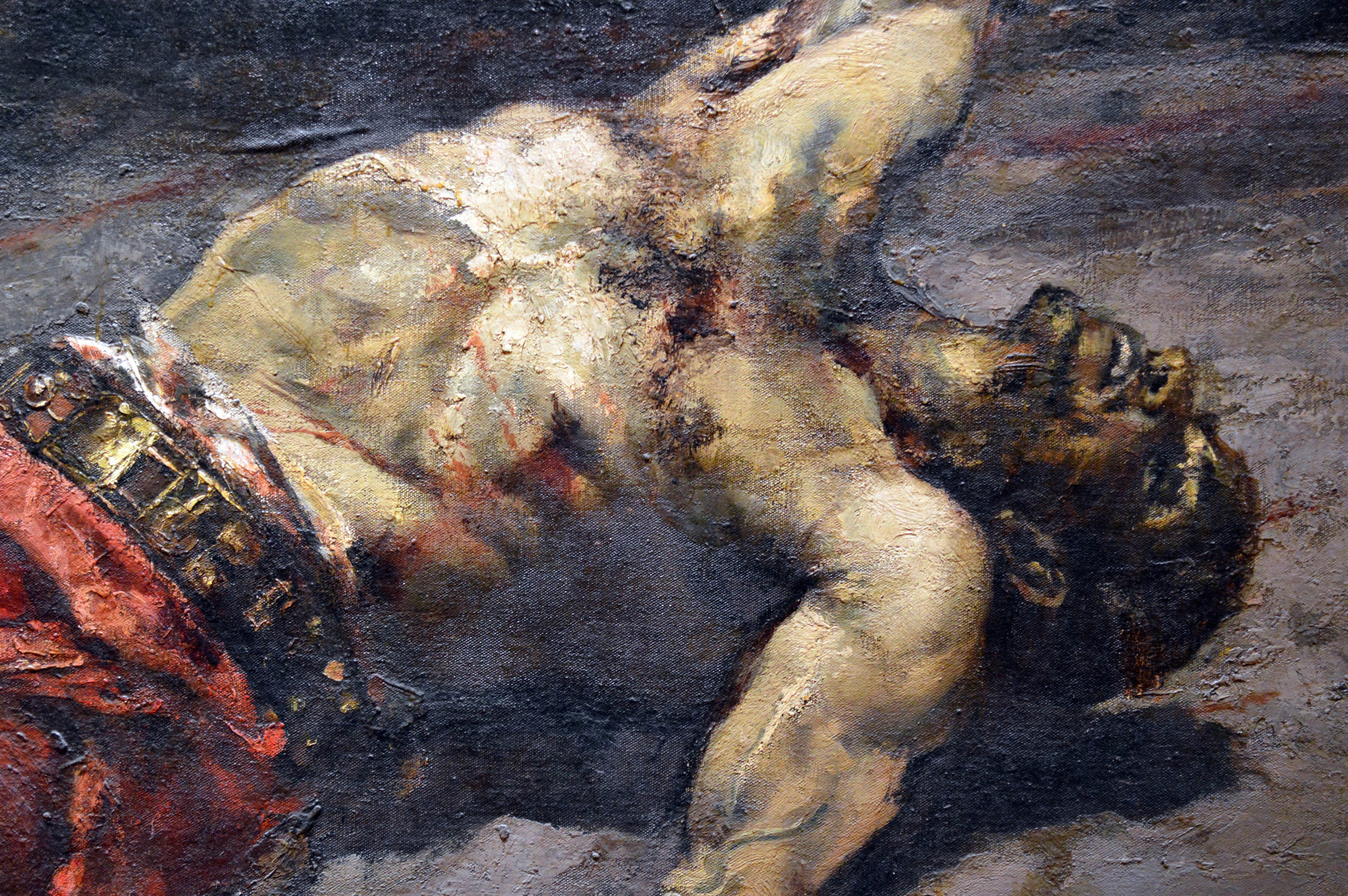 Saying "No" to Imperialism, Visualizing Freedom
(Seminar)
Juan Luna, Spoliarium, 1884 (detail)
This seminar investigates the role art played, and continues to play, in anti-colonial and anti-imperial struggles. It also examines how such struggles, in turn, shape artistic languages and forms.
In the 19th century, anti-colonial movements were underway across South and Southeast Asia. Dutch-occupied Indonesia engaged in a guerrilla-style revolution. India fought the first war of independence against the British. Insurrections broke out in Spanish-controlled Philippines. In such struggles for freedom, the visual arts assumed an important role. For that which could not be spoken in words could be alluded to in visual representation. We will begin in the 19th century. Then, moving through the 20th century, we will trace theories and practices of anti-imperialism articulated by artists and intellectuals across South and Southeast Asia. Case studies will include Vietnamese guerrilla artists who participated in the Vietnam War, Socialist artists in India, and art produced under the shadows of the Khmer Rouge. Finally, we will examine contemporary resistances to state-sponsored repression and censorship by artists' groups such as the New Delhi-based Raqs Media Collective and Ho Chi Minh City-based Propeller Group. We will juxtapose the South and Southeast Asian story with interconnected movements that unfolded across Asia, for example dissident art in China, graffiti in Hong Kong, and performance art by non-conformist collectives in post-Soviet Central Asia.
Modern and Contemporary South Asian Art
(Seminar)
Raqs Media Collective, Corrections to the First Draft of History, 2014
Please contact for details.
AsiaModern: Art + Architecture
(Undergraduate lecture)
M. F. Husain mural at the Indira Gandhi International Airport, New Delhi (detail)
This course offers an introduction to the art and architecture of modern South, Southeast, and East Asia from 1800 to the present. Asia, of course, is as vast as it is diverse. Keeping this in mind, this course will not attempt an encyclopedic survey of Asian art. Instead, using a comparative perspective, each week will focus on a set of case studies—the work of particular artists and art movements or the architecture of specific Asian cities—to reconstruct an expansive history of art and architecture in Asia. Examples will range from modern painting, sculpture, photography, and architecture to contemporary new media, performances, installations, and participatory art projects. Class lectures will be complemented by a close examination of collections of Asian art on campus and in the Bay Area. Simultaneously, taking advantage of the presence of numerous diasporic Asian artists in the area, we will venture outside of the classroom to track histories of modern and contemporary Asian art in our localities, neighborhoods, and communities.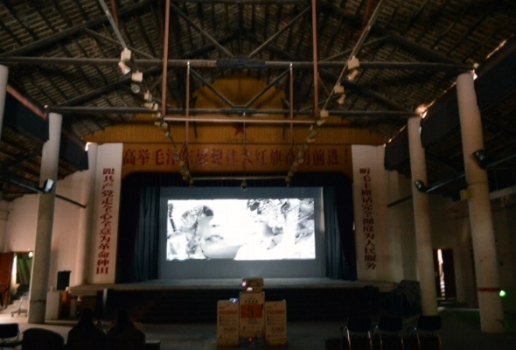 Contemporary Art + Architecture from Asia, ca. 1945-present
(Undergraduate lecture)
Moving Image Gallery, Xiaozhou Village, Guangzhou
This course will offer an overview of contemporary art and architecture from South, Southeast, and East Asia. Beginning around 1945 and paying special attention to new avant-garde and experimental practices, the lectures will trace the emergence of abstraction, hyperrealism, pop, conceptualism, documentary video and photography, performance, multi-media installations, new media and video art, feminist and queer practices, site-specific projects, and participatory art. Although the 20th century has often been described as the Asian Century, many parts of the region remained engulfed in political turmoil and civil unrest while others functioned under military rule. The emergence of a range of experimental art and architecture movements coincided with these political developments. Consequently, our account will not only place Asia's art and architecture within the larger context of anti-censorship protests and civil society activist movements but also situate recent artistic and architectural practices within critical theories of contemporary art history more broadly. Our focus will be on Mainland China, Hong Kong, Taiwan, Japan, Korea, India, Pakistan, Bangladesh, Philippines, Myanmar, Indonesia, Vietnam, and Thailand.
Asia America: Asian American Art and Architecture
(Undergraduate lecture)
Isamu Noguchi, Village in India, c. 1949
This course focuses on modern and contemporary Asian American art and architecture from the mid-1800s to the present. It is not intended to be an encyclopedic survey of Asian American art. Rather, each class will focus on a case study—the work of a particular artist, architect, or an art group—to examine what Asian American art looked like at specific historical junctures and what it meant to be an Asian American artist. We will trace how social and legislative processes such as immigration policies, identity politics, and struggles over citizenship rights impacted the Asian community and shaped artistic practices. We will be equally attentive to solidarity movements that united Asian American artists with other artists of color in the United States. Furthermore, we will follow several major American artists and architects who traveled to various Asian countries and collaborated with artists there. Thus, we will not only reconstruct an expansive history of Asian American art but also situate this history within the larger history of American art. A range of material practices, including painting, sculpture, installation, performance, new media, architecture, and graphic illustration will be considered.